Specialized Skilled Nursing
When it comes to individualized care, you can guarantee your loved one has the best at Bear Creek. Our staff are highly qualified to meet the needs of your family member and identify just what they need. Our Department Heads have an average of 13 years of experience with Bear Creek Nursing Center and nurses have an average of 7 years experience. Bear Creek has an in-house Pulmonologist, Cardiologist, Neurologist, and a Wound Care Nurse who has been with Bear Creek for 20 years and is KCI Wound Vac certified. We are here 24 hours, 7 days a week and each resident has a plan tailored to their specific medical needs. Our staff takes care of all your needs from each meal to laundry and housekeeping so you can focus on getting better.
We offer a large range of medical services for individuals with complex medical issues and those who need rehabilitative therapies such as, but not limited to: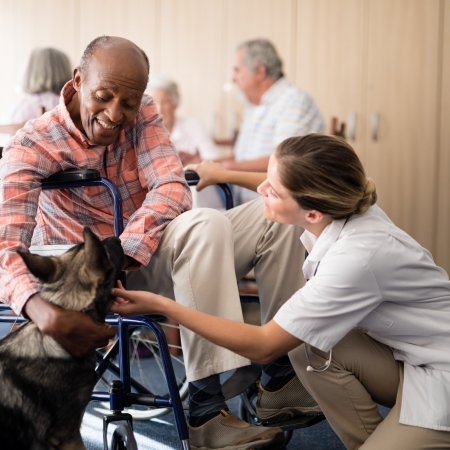 Personal care

Terminal illness

Respiratory care

Parkinson's care

Rehab care due to fractures/joint replacement
Alzheimer's and dementia care

Wound care

Pain management

Acute medical conditions

Diabetic therapy
My mom is a long-term care resident at Bear Creek. She is very happy here and has made many friends along the way. She enjoys the activities they provide and really enjoys the salon services. She receives great care and I couldn't have found a better place for her.
My step-father was a resident of Bear Creek Nursing Center through a very critical period of his life. What a wonderful job they did, in every aspect. Their compassion and understanding during this time is something I will always remember. Thank you for all the good memories.
After knee surgery, I was recommended to Bear Creek's physical therapy rehabilitation program. What a great decision this was – and great experience. Their therapists and staff really what they were doing. If I should ever need rehab again, I am telling my doctors I want to return to Bear Creek.